Renacuajas

Sinchanclas

mágicas

divertidas

únicas

originales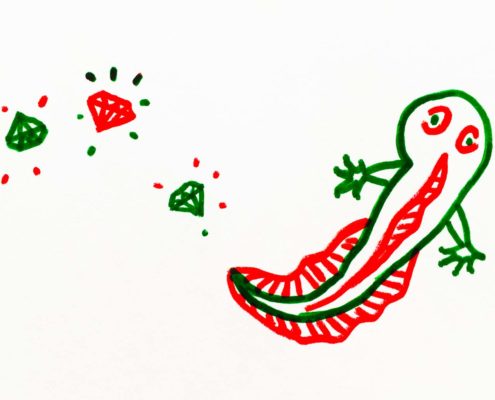 ¿Qué es nuestra imaginación comparada con la de un niño que intenta hacer un ferrocarril con espárragos?
Lúcida pregunta de Jules Renard
Renacuajas: jewelry inspired in children's drawings
---
We all have someone who we deeply love and inspires us: sons and daughters, nephews and nieces, grandchildren and granddaughters, siblings or friends. We treasured their toys or their childhood drawings. But … have you considered turning these memories into jewels? Nothing immortalizes better than metal. This means that you will be able to wear a unique and exceptional piece that evoke an irreplaceable memory from a love one.
Las Renacuajas de Sinchanclas
¿Do you want a Renacuaja? As a personal example I include a silver pin inspired from Pau´s drawing, my 6 years old nephew. On the first picture you can see the original drawing with the pin by side, on the second one is the finished pin. Is the first Renacuaja.
 It is a 2 cm long silver pin to wear on shirts, bags or flaps. The pin has been textured, so it has more body and the oxide finish gives more strength to the setoff. There are only 8 copies; one for each family member. I gave it to them as a Christmas present. Nice, isn't it?
Let's recap what Sinchanclas is offering you:
– Designs inspired from the draws of those you love most.
– Handcraft unique pieces (no one else will have a copy).
– Direct and personalized attention throughout the process.
– Worldwide shipping.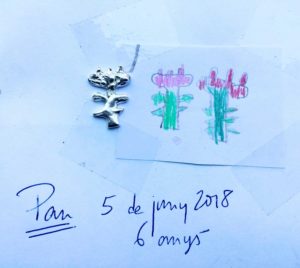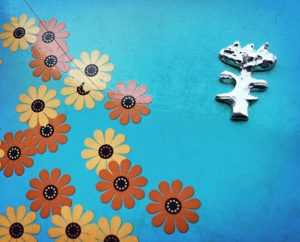 I am 7 years experienced craftwomen with the possibility and the ability to create several type of pieces. We will work together to create the jewel you dream about. I offer you the possibility to choose between multiple options, such as the size, the format (earrings, pendant, bracelet, pin …) and the finish of the jewel (shiny, matte, patina …). Since each work is unique the final price will be calculated based on: labour time, amount and type of material and the number of pieces to produce (more pieces, more adjusted price per unit).
My studio is in Barcelona and if it is not possible to schedule a physical appointment, we can get to know each other by Skype, or communicate through email, phone or WhatsApp.
Do you want to know how I work? You can find me on Instagram, Facebook or check out my website.
Are you interested? Please do not hesitate to contact me.
I speak English, French, Catalan and Spanish.
Could you please make me a favour? Share this information with those who might be interested.
Thanks you very much and see you soon
Alba Sinchanclas